BINGO CHALLENGE - GIRLS
On the occasion of Women's Day, we wish all ladies playing on GameDesire every success and multi-million dollar winnings!
For a good start, we have a special free gift for you - ROSE BOUQUET!, which will surely make your profile more attractive!
Bingo Challenge
The next edition of our fun for Bingo players where you can win millions of chips has just launched. All you have to do is buy (for a nominal amount) a Bingo Girl gift, which is your entry ticket. This will let us know that you want to take part in our event. That is all. Now, all you have to do is play Bingo and be successful. Leave the rest to us.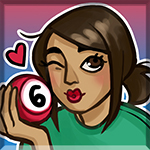 The chips you win on a given day will be multiplied by your profit factor, which will result in points in our ranking. The results table will be updated every day. You can find out what the profit factor is and how we calculate the points in the terms and conditions at the bottom of this page.
Extra Word Bonus: GIRLS

It's not the end! Every day, the first 10 players on the list will receive a gift representing a digit. Collecting all the digits will create a bonus word. If one day you don't manage to get a digit, nothing is lost. The digits will be added individually taking into account the ones you already have. They are not assigned to a particular day and are not duplicated.
The current bonus word is: GIRLS. Everyone who manages to arrange this word will receive 1,000,000 chips at the end of the game!
Rules of the game:
Buy a Bingo Girl gift to take part in the competition.


Play Bingo and win chips. Only players who managed to win more than they lost on the previous day (between 00:00:00 and 23:59:59 UTC) are considered for the calculation of points.


Points are credited regardless of the version of the game you are using (Gameroom, Mobile or Unity).


ATTENTION: 1-on-1 games are not included in the competition.


Chips won at Bingo are converted into points in this event as follows:

We check how many chips you gained at Bingo the previous day (we subtract the cost of the coupons from your winnings total) and multiply it by your profit factor. The result is also the number of points you earned that day. 

How do we calculate the profit factor? We divide your balance (winnings minus cost of coupons) by the cost of buying coupons.


Example:

Yesterday between 00:00:00 and 23:59:59 UTC you won a total of 2000 chips at Bingo.
The cost of buying the coupons was 500 chips.
Your balance is 1500 chips because 2000 (profit) - 500 (cost) = 1500.

Your profit factor is 3 because 1500 (balance) / 500 (cost) = 3

Therefore, you receive 4500 points because 1500 (balance) * 3 (profit factor) = 4500.

The event runs from Monday (3/7) to Sunday (3/13).

Every day we publish a table with the results, in which the points are added up. The table with the results for Friday (3/11), Saturday (3/12), Sunday (3/13) - will be updated on Monday (3/14).


At the end of the game, the 25 players with the most points will be rewarded as follows:

1st place: 30,000,000 chips
2nd place: 25,000,000 chips
3rd place: 20,000,000 chips
4th place: 15,000,000 chips
5th place: 10,000,000 Tokens
6th place: 8,000,000 chips
7th place: 6,000,000 chips
8th place: 4,000,000 chips
9th place: 2,000,000 chips
10 - 14 place: 1,000,000 chips
15 - 20 place: 500,000 chips
21 - 25 place: 250,000 chips

Extra Word Bonus:
Each day the top 10 players receive a gift representing a letter of the alphabet. Any player who collects all the gifts forming the required word at the end of the game will receive 1,000,000 chips.

Prizes will be credited to your account no later than 15 March at 15:00 UTC.
Ranking
Place
Player
Points
Word Bonus
1
$czaSem$graM$
92 061 006
2
bettina
91 978 780
3
_Chevy_Girl_
50 448 367
4
wredziol
37 388 463
5
mineirinho69
35 875 141
6
Jujuba32
34 441 285
7
Sara1977
29 003 157
8
zaMy$lona
28 687 271
9
mefiu
26 456 905
10
__NEOQEAV__
20 353 545
11
82ewelina82
13 247 158
12
estressada77
12 493 648
13
Ro8Janeiro
9 177 078
 
14
@lynne
9 032 564
 
15
vane
8 231 974
16
ALRB2018
7 784 742
17
king of darkness
7 114 160
 
18
goia
5 629 795
 
19
Kasieniaa
4 714 136
20
Love beautiful Wo

rld @

3 993 934
 
21
Graciele34
3 633 166
22
123ayka
3 606 251
 
23
Ariel01
3 277 890
 
24
Los Ami
3 251 023
 
25
edna45
2 989 995
26
...Brilho...
2 853 310
 
27
Karolcia558
2 849 584
 
28
Binho
2 643 528
 
29
Aisot
2 541 645
 
30
fioleczka
2 395 881
 
31
.tuttuka.
1 654 278
 
32
Batli836
1 634 955
 
33
koszulka
1 534 949
34
Greatest
1 482 017
 
35
Miła...
1 476 337
 
36
Krysztal
1 316 095
37
Jolitka54
1 014 341
 
38
Ramo-Gabi
826 672
 
39
Dflorinda
820 521
 
40
Truskawka3
724 873
 
41
kaskagolec
713 105
 
42
Tigrutza
706 411
 
43
Mafalda Mafalda
645 957
44
Never say neveer
579 708
 
45
Dayse
499 756
 
46
lai_ana1
498 316
 
47
55Dominika55
438 955
 
48
lucastomosy24
363 273
 
49
billy bob black
357 459
 
50
ッINTRUSAッ
223 200
 
51
Gabielka
162 277
 
52
εאσƭเ૮α
118 647
 
53
Kaatarzyna
110 755
 
54
F__o__X
98 263
 
55
rybka zlata
47 685
 
56
Elwircia
46 650
 
57
Ewcik007
44 071
 
58
...$...
34 440
 
59
xquczipeps
24 882
 
60
8lwica1
23 490
 
61
missblue
20 182
 
62
marek2507
18 440
 
63
BASIA CHROBAK3

3

12 783
 
64
Możliwe
12 087
 
65
rowerzystka111
11 487
 
66
ewolny
10 694
 
67
uparty
6 815
 
68
Wikusia2121
5 537
 
69
omaha22
3 992
 
70
beni90
2 689
 
71
adrianas1
2 020
 
72
babunia8
32