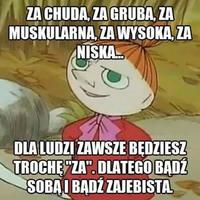 kicia_19_87
;)
To nie jest kwestia naiwności. Po prostu masz nadzieję, że tym razem będzie inaczej. Lepiej. Cokolwiek to znaczy.
Something about me
About me
Zagubiona - bo nie wiem czy jestem w dobrym miejscu o dobrym czasie...
Tchórzliwa - bo czasem mam ochotę uciec i nigdy nie wrócić...
Nieufna - bo zawiedli Ci, których najbardziej kochałam :( ...
Niedoskonała - bo ... nie ma ludzi idealnych ...
Silna - bo czasem dziwię się, że jeszcze żyję...
Bezradna - bo nie potrafię cofnąć czasu ...
Zbolała - bo czasem cios za ciosem robi swoje...
Roztargniona - bo zbyt późno zauważam własne błędy...
Niewidoma - bo czasem nie widzę tego, co widzieć powinnam...
Uśmiechnięta - dzięki temu czuję że żyję ...
Pomocna - bo wiem co znaczy nie podać komuś ręki ...
Rozmarzona - bo czasem nie pozostaje mi nic innego ...
Zasłuchana - bo ciągle szukam mądrych słów...
Favorite movies
horrory, thrillery, psychologiczne
Things I like
Jazdę na rowerze
Things I don't like
cwaniactwa, kłamstwa, chamstwa, ludzi dwulicowych, wcześnie wstawać xD