Come giocare Poker Omaha - regole di gioco
When you choose a table, use the 'Sit Down' option to start a game. First you must buy-in to the table.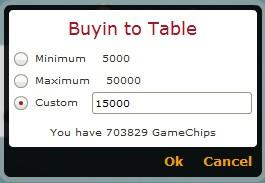 After that you can play with other players. Depending on the situation you can take different actions such as 'Fold', 'Check', 'Call' or 'Raise' (you can write the requested amount in the white box or simply use the slider). Remember, there is a time limit for each move. It's displayed by the green bar under your cards. For the convenience of the players, we have added keyboard shortcuts.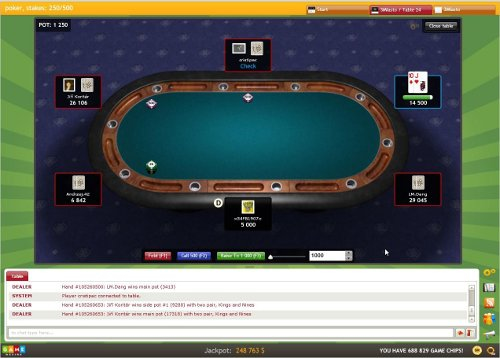 In addition to the options related to the active game, players can also:

Sit out - this very convenient feature allows you to take a break from the game for some time without losing your spot at the table.
Stand Up – leave the current game and give up your seat
Rebuy - by clicking this option you can add more Virtual Cash to your current game without leaving the table
Personal options
Available when you are sitting at the table.
Game options - available when you participate actively in the game
Hide chat panel - you can turn off chat for a better view
Game history -the Game History section allows you to view information about recent hands played at this table
Players in room - by clicking this icon you open the players list
Turn the sound off