Jak grać w Golden Reels Casino Slots - zasady gry
Spin and win!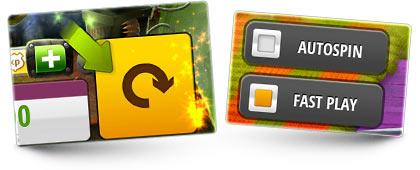 Spin it
Press the yellow button to spin the reels. Use the FAST PLAY option to accelerate the spins. You can also enable AUTO SPIN feature to keep spinning without any effort. Winnings are calculated from left to right. Line is winning when it has 3 or more symbols on it.

Bets and lines
Decide how much you want to spent on one spin by settings number of LINES and BET amount. You can choose between 1 and 25 paylines. More lines mean higher chances to win! TOTAL BET displays total number of coins used per spin.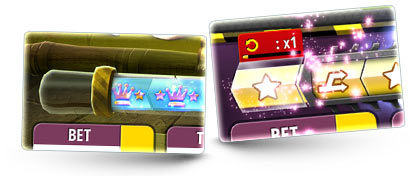 Power ups
Power-ups boost spins making them much more rewarding. Different kinds of power-ups improve spins in different way. Each spin moves power up forward. Movement speed depends on BET size and LINES count. Reach the left side end to activate the power up.
---
Power ups
Extra paylines

New, additional paylines are automatically wagered on, for free.

Symbol upgrade

Low Win symbol is replaced with respective. High Win symbol from the paytable.

Symbol as Wild

One of High Win symbols is replaced with a new, better symbol and treated as Wild

Vip Power up

Unique power up with special win multiplier.

Multipliers

Bet line wins are multiplied by 2/3/4 after each spin

Very Vip

Unique power up with even more special win multiplier

XP Accelerator

XP is gained more quickly
---
What is Jackpot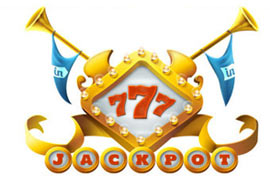 How to win Jackpot
Jackpot is a special prize, that can be won on any machine (except Bingo Slots and Golden Reels). In order to receive the prize you need to score 5 special scatters on payline 1. Winning symbols are different on each machine.
total bet 10 coins or less - 10% of jackpot prize pool
total bet 100 coins or less - 20% of jackpot prize pool
total bet 1000 coins or less - 40% of jackpot prize pool
total bet more then 1000 coins - 80% of jackpot prize pool
---
Jackpot winning symbols
Sea battle

Nuclear scatter

Seaside

Message in a bottle

Charmed woods

Magic Weapons

Zombie Hunter

Chainsaw scatter

Kitten Mittens

Cat in a box
---
How to play in tournaments?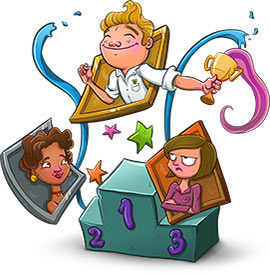 Go for it!
All tournaments are free, all you have to do is to enter the machine with active event. Spin and win at least once to participate in the tournament. Compete against other players and improve your rank. Points are counted as win/bet ratio from your 10 best spins results.
Time is precious.
The timer counts down to the end of tournament. Once it's over, prize pool is divided between players on prize places. Tournaments winnings are added to your regular wins.