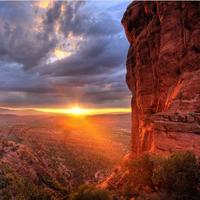 LET'S ALL REMEMBER THE ONLY PERFECT PERSON DIED ON A CROSS THOUSANDS OF YEARS AGO.
The New Date is Set
     I got the call today.   If all goes as planned I will be going back in to see if the blood clot is gone on the 30th of July.   The doctor wanted to do the ablation the next day if it has cleared, but his nurse is going to try to get him to do them both the same day IF the clot is gone.   I have a long way to travel to the hospital, and she remembered the only way I can get there is if my brother takes me.   She wants to make it so he does not miss as much work as he would if they were done on different days.
  Not many health care people are that considerate.  Fact is the doctor probably wanted to do it in 2 days because then he could double bill.   If they do both in one day the insurance company will only let them bill once.  
     I just hope the clot is all gone when they check it and that the ablation will work.   Bet my throat is going to be supper sore after having things shoved down it for hrs. , but if it works it will be worth all the pain.   To be able to walk or ride a bike and not need to be afraid of having an afib attack.   My brother thinks it will work out, but after not getting the first time and finding a blood clot I do not have as much confidence in it this time.